Expert Labour Law Management Consulting for All Private and Public Sectors

SEMINARS
Learn from the best
Book for our next labour law seminar to get insights that ensure you and your business are protected by the LRA .

STRATEGY
Outsourcing
Among our most in-demand services include in-house training, professional development of HR/IR policies, procedures and strategies.

SMART SOLUTIONS
Retrenchments
It's never a simple process. Trust our professionals for smart and cost-effective solutions that work, for everyone.

EXPERT SERVICES
Professionalism
Our CEO Ivan Israelstam is an established author, has been a CCMA Commissioner and featured in South Africa's WHO's WHO. Ivan is available for consulting.
Labour Law Debate
Join our Forum
Register as a member of Labour Law Debate, where experts debate the issues that affect labour relations in the workplace.
Follow the debate. Join the discussion. Ask your questions.
Labour Law Management Consulting offers you a unique labour law information service, Labour Law Debate. Register here and you will be able to follow up to date views from eminent labour law experts debating crucial labour law issues. In addition you will receive our free monthly newsletter, Labour Law Alert. Register now to gain access to cutting edge knowledge on South African labour law.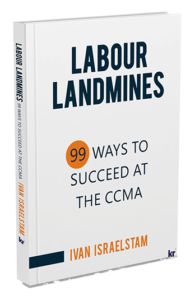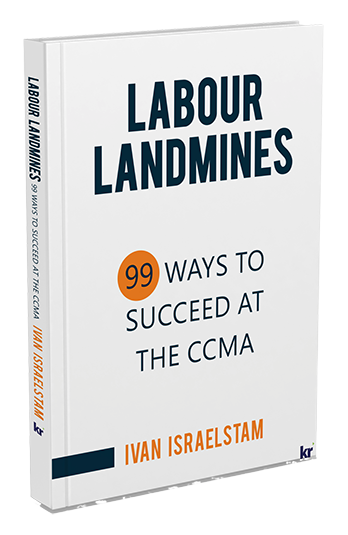 New Book
Labour Landmines: 99 Ways to Succeed at the CCMA
By Ivan Israelstam
"Essential reading for anyone who manages employees in South Africa"
It's frightening to consider that more than 186,000 cases land up at the CCMA in South Africa every year. Learn how to protect your business and avoid costly legal battles! This book reveals 99 key legal pointers about prevailing laws and judgements in South Africa. Plus! This hands-on, easy-to-understand guide also offers practical suggestions on how best to manage your employee relations within these parameters.
Published April 2019
What our clients have to say
Thank you once again for taking time out of your busy schedule to reply to my email.
Your reply really cleared up the concerns I had.
Melissa Roux
Thank you for your invaluable assistance in obtaining a more than fair retrenchment package for me. Having followed your advice, I was paid out about three times the original offer.
Bill
Thank you for your excellent and very knowledgeable advice. I will strongly recommend your service to all my business associates.
Leslie Goldberg
Ivan, you complete me. Thank you so so much!
Lauren Nell
Thank you Mr. Ivan Israelstam for your response, it helps a lot.
Sandra Langa
Thank you for your excellent and very knowledgeable advice. I will strongly recommend your service to all my business associates.
Leslie Goldberg
In all my dealings with Mr. Israelstam, I have been most impressed not only by his comprehensive knowledge of Labour Law and its ramifications but also by his professionalism in all his dealings.
Mark
Thank you very much Ivan for your response and advice, wish South Africa could have many of your kind.
Matsemela
Thanks very much, you are my hero.
Itani Ratombo
Thank you for your suggestion, Ivan. It was very kind of you and helpful.
Bryan Holden
Thank you for your prompt response, it's greatly appreciated especially around something I'm not well versed in or have any experience in. You are the best.
Anton Pretorious